Visitors
Online Now: 1
Today: 99
This Week: 705
Since 2012: 140514
GUEST BLOG
Thought for the morning – written with tears
 2 Samuel 12:22-23  And he (David) said, "While the child was alive, I fasted and wept; for I said, 'Who can tell whether the LORD will be gracious to me, that the child may live?' 23  But now he is dead; why should I fast? Can I bring him back again? I shall go to him, but he shall not return to me."
When a loved one is going through the final steps of leaving this world, we who love this one agonize before the Lord with many tears, prayers and supplications. We may plead with the Lord, but we always know it is not our will but His that is to be done.
David fasted and wept for his newly born son who was deathly ill; born of Bathsheba, the… Continue reading →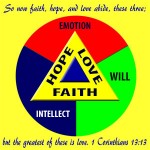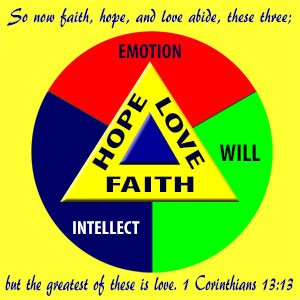 So now faith, hope, and love abide, these three; but the greatest of these is love.
I Corinthians 13:13 (CEV)
This diagram and the lesson which follows show how faith, hope, and love relate to the mind (intellect), will, and emotion of man – which in turn corresponds with the soul.
And the very God of peace sanctify you wholly; and I pray God your whole spirit and soul and body be preserved blameless unto the coming of our Lord Jesus Christ.    1 Thessalonians 5:23
When we read that God created man in His own image (Genesis 1:27) it does not refer to merely a physical representation, but the character and attributes of God. As God Himself is the Father, the Son, and the Holy Spirit, so man is also a tri-part being: body, soul, and spirit. Even as God is more… Continue reading →
Contact
Send meeting links to webadmin@webchapel.org