Visitors
Online Now: 1
Today: 87
This Week: 366
Since 2012: 124759
We recorded most of the sessions for Training Camp and over half of the sessions for Youth Camp.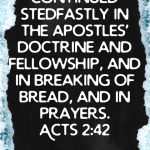 And they continued stedfastly in the apostles' doctrine and fellowship, and in breaking of bread, and in prayers. Acts 2:42
The ministry to "shut-ins" has changed through the years. I remember as a youth delivering cassette tapes to the homes of folks too sick to attend meetings of the local church. That short visit and perhaps a phone call was as much fellowship as these dear saints would get in a week.
Cassette Tapes became CDs. CDs became MP3s. MP3s have become live streaming. While many fellowships simply stream, which is like having a private TV channel, some use interactive streaming with tools like ZOOM (R} [http://zoom.us].
We have been separated by distance and quarantine and medically necessary isolation for half of 2020. My wife and I have visited fellowships around the country, and even the world. My wife loves to attend a Women's Bible… Continue reading →
Online meetings have grown in popularity in virtually every sector of society. Education, corporations, small business, and families now "meet online".
Over twenty years ago I met in a little room at a Kinkos®️ Copies for classes being hosted in Dallas Texas and attended all over the country. Today, a meeting like that can be hosted from anywhere and attended anywhere that the internet can be accessed. The only technology needed today is a phone. This technology now makes it possible for people from anywhere in the world to meet together without travel.
There are many ways to host or attend an online meeting. Their are advantages and disadvantages with any of them. Here are some of the current ways to host or attend a meeting. **Disclaimer: Other than owning a few shares of ZOOM, I have no financial connections with any of these hosting… Continue reading →
GUEST BLOG
Thought for the morning – written with tears
 2 Samuel 12:22-23  And he (David) said, "While the child was alive, I fasted and wept; for I said, 'Who can tell whether the LORD will be gracious to me, that the child may live?' 23  But now he is dead; why should I fast? Can I bring him back again? I shall go to him, but he shall not return to me."
When a loved one is going through the final steps of leaving this world, we who love this one agonize before the Lord with many tears, prayers and supplications. We may plead with the Lord, but we always know it is not our will but His that is to be done.
David fasted and wept for his newly born son who was deathly ill; born of Bathsheba, the… Continue reading →
Contact
Send meeting links to webadmin@webchapel.org