Visitors
Online Now: 1
Today: 93
This Week: 616
Since 2012: 108168
GUEST BLOG
Thought for the morning – written with tears
 2 Samuel 12:22-23  And he (David) said, "While the child was alive, I fasted and wept; for I said, 'Who can tell whether the LORD will be gracious to me, that the child may live?' 23  But now he is dead; why should I fast? Can I bring him back again? I shall go to him, but he shall not return to me."
When a loved one is going through the final steps of leaving this world, we who love this one agonize before the Lord with many tears, prayers and supplications. We may plead with the Lord, but we always know it is not our will but His that is to be done.
David fasted and wept for his newly born son who was deathly ill; born of Bathsheba, the… Continue reading →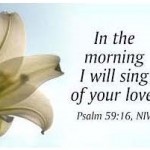 GUEST BLOG FROM CARL
Proverbs 3:5 5 Trust in the LORD with all your heart, And lean not on your own understanding;
Proverbs 14:12 12 There is a way that seems right to a man, But its end is the way of death.
We can place our trust in many difference places. But many times our trust in someone or something does not pan out. Some have trusted us in some area and have been disappointed when we fail to fulfill that trust. There is One we can totally trust in, and that is our Savior the Lord Jesus. Trust and hope go hand in hand. We trust in the eternal hope we have in Him. We trust that God is faithful to His word and He will not abandon us! In the faitfulness of God lies our trust.
Trust in our own… Continue reading →