Visitors
Online Now: 1
Today: 79
This Week: 79
Since 2012: 102859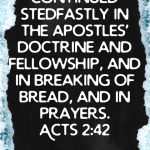 And they continued stedfastly in the apostles' doctrine and fellowship, and in breaking of bread, and in prayers. Acts 2:42
The ministry to "shut-ins" has changed through the years. I remember as a youth delivering cassette tapes to the homes of folks too sick to attend meetings of the local church. That short visit and perhaps a phone call was as much fellowship as these dear saints would get in a week.
Cassette Tapes became CDs. CDs became MP3s. MP3s have become live streaming. While many fellowships simply stream, which is like having a private TV channel, some use interactive streaming with tools like ZOOM (R} [http://zoom.us].
We have been separated by distance and quarantine and medically necessary isolation for half of 2020. My wife and I have visited fellowships around the country, and even the world. My wife loves to attend a Women's Bible… Continue reading →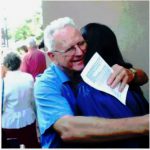 The entire video is 38 minutes long. It includes several minutes before and after the ceremony. The Bible reading begins at 12min 55sec and the ceremony ends at 31minutes. The remaining seven minutes includes the lowering of the casket. Most devices will allow you to use the slider to skip ahead.
Memorial Speaker's Notes
We are gathered here to grieve the loss and to remember, honor, and celebrate the life of Joseph Ray Farmer, whom most knew as simply Joe.
Joe was born March 25, 1942 to William Farmer in Anderson SC.
With the loss of his birth mother at only one week of age, Joe was raised by his father's second wife Edith, the only Mom he ever knew. He loved Edith and honored her with a memorable Mother's Day sermon about Mothers of adopted children. Joe loved and honored both parents, attending to… Continue reading →
Knowing that you were not redeemed with perishable things like silver or gold from your futile way of life inherited from your forefathers, but with precious blood, as of a lamb unblemished and spotless, the blood of Christ.  1 Peter 1:18-19
While gold is the highest prize and greatest honor that the games can offer, it is not the most valuable currency in the universe.  It has been a pleasure to see many Olympic athletes openly express their faith in Christ in Rio.  These dear brothers and sisters in Christ understand the temporal (temporary) value of Gold in contrast to the eternal (forever) value of the precious blood of Christ.
KNOWING  THAT GOLD HAS NO ETERNAL VALUE – Peter is writing to believers to challenge them to live a life that reflects the holiness of God.  It is knowing that… Continue reading →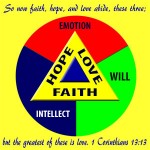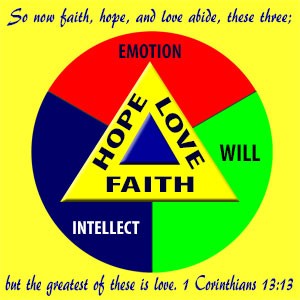 So now faith, hope, and love abide, these three; but the greatest of these is love.
I Corinthians 13:13 (CEV)
This diagram and the lesson which follows show how faith, hope, and love relate to the mind (intellect), will, and emotion of man – which in turn corresponds with the soul.
And the very God of peace sanctify you wholly; and I pray God your whole spirit and soul and body be preserved blameless unto the coming of our Lord Jesus Christ.    1 Thessalonians 5:23
When we read that God created man in His own image (Genesis 1:27) it does not refer to merely a physical representation, but the character and attributes of God. As God Himself is the Father, the Son, and the Holy Spirit, so man is also a tri-part being: body, soul, and spirit. Even as God is more… Continue reading →
VOWS, OATHS, AND PROMISES
If a man vow a vow unto the LORD, or swear an oath to bind his soul with a bond; he shall not break his word, he shall do according to all that proceedeth out of his mouth.


Numbers 30:2

(KJV)
This is an outline and link to the audio file from a message preached at North 56th Street Gospel Chapel (Tampa, Florida) on 1-4-2015
http://mrsteve.me/2015Vows [28 minute mp3 / 5MB]
Introduction:  The Law concerning vows.
A. Biblical
 Numbers 30:1-2
Deuteronomy 23:21-23
Matthew 5:33-37
B. Rabbinical Law (extra-Biblical)
 Three Times
Vows (things/others)
Oaths (personal)
I. Examples of Vows
A. Wedding
 Intent (I will), Vow (I do), Ring (I wed)
 B. Peter's oath.
Found in all four gospels
Matthew 26:34
Mark 14:30
John 13:38
Luke 22:34 (see 31-34, 54-62)
II. Foolish Vows
A. … Continue reading →
How blessed is the man who does not walk in the counsel of the wicked, Nor stand in the path of sinners, Nor sit in the seat of scoffers! But his delight is in the law of the LORD, And in His law he meditates day and night. Psalm 1:1-2
For as long as there have been roads and paths there have been markers along the way. This ancient practice of marking a journey has become a metaphor used to indicate expected events on a given path in any number of disciplines. Ms. Kitty and I became grandparents this year – twice. There are probably more developmental milestones in the first year of life than in the next ten years combined. Who knew that blowing bubbles was a developmental milestone? It has been an exciting year for our family and for many of our friends… Continue reading →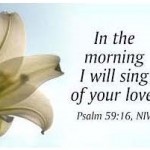 GUEST BLOG FROM CARL
Proverbs 3:5 5 Trust in the LORD with all your heart, And lean not on your own understanding;
Proverbs 14:12 12 There is a way that seems right to a man, But its end is the way of death.
We can place our trust in many difference places. But many times our trust in someone or something does not pan out. Some have trusted us in some area and have been disappointed when we fail to fulfill that trust. There is One we can totally trust in, and that is our Savior the Lord Jesus. Trust and hope go hand in hand. We trust in the eternal hope we have in Him. We trust that God is faithful to His word and He will not abandon us! In the faitfulness of God lies our trust.
Trust in our own… Continue reading →
GUEST CONTENT: stonestruestory@gmail.com Carla Estell
Our family celebrates Saint Nick's Day each year with filled stockings. It is usually the official start of the Christmas Season in our home. Carla Estell has written an Ebook (PDF) about Santa Claus and the true meaning of Christmas. If you print it double-sided it makes a book, or you can print it single sided and cut the pages in half to form a little book. Hey, it's free! Share it and be sure to include Carla's contact information.
You can also check out their family website: http://stonestruestory.org/
Here is the link to the storybook (2MB) http://mrsteve.me/1CZdFgG
One of the websites that I manage is devoted to providing resources for children's ministry (GospelTalks.com).  Eikon Bible Art is a source of printable and projectable Bible story pictures.  For Christmas they have a free Christmas book (pdf).  I got mine so I thought I would pass this along to others.  The free link is good for a week, but the books are quite affordable anyway.  http://www.eikonbibleart.com/index.php?main_page=page&id=19
2 Chronicles 32:31 "… God withdrew from him (Hezekiah), in order to test him that He might know all that was in his heart."
Will the Lord withdraw from us as a believer in Christ? The Lord told us "I will never leave you or forsake you" (Heb 13.5). As Christians, we have the indwelling Spirit so He is always with us. However, does the Lord test us, to know what is in our heart, as he did Hezekiah?
Was the Lord testing Peter when He asked him three times "Do you love Me"     (John   21.15-17)? Was Peter tested when the Lord urged him come and walk on "on the water" and he faltered on cried out "Lord save me" (Matt 13.28-31) Peters faith was being tested! "O you of little faith, why… Continue reading →