Visitors
Online Now: 2
Today: 86
This Week: 432
Since 2012: 134180
VOWS, OATHS, AND PROMISES
If a man vow a vow unto the LORD, or swear an oath to bind his soul with a bond; he shall not break his word, he shall do according to all that proceedeth out of his mouth.


Numbers 30:2

(KJV)
This is an outline and link to the audio file from a message preached at North 56th Street Gospel Chapel (Tampa, Florida) on 1-4-2015
http://mrsteve.me/2015Vows [28 minute mp3 / 5MB]
Introduction:  The Law concerning vows.
A. Biblical
 Numbers 30:1-2
Deuteronomy 23:21-23
Matthew 5:33-37
B. Rabbinical Law (extra-Biblical)
 Three Times
Vows (things/others)
Oaths (personal)
I. Examples of Vows
A. Wedding
 Intent (I will), Vow (I do), Ring (I wed)
 B. Peter's oath.
Found in all four gospels
Matthew 26:34
Mark 14:30
John 13:38
Luke 22:34 (see 31-34, 54-62)
II. Foolish Vows
A. … Continue reading →
2 Chronicles 32:31 "… God withdrew from him (Hezekiah), in order to test him that He might know all that was in his heart."
Will the Lord withdraw from us as a believer in Christ? The Lord told us "I will never leave you or forsake you" (Heb 13.5). As Christians, we have the indwelling Spirit so He is always with us. However, does the Lord test us, to know what is in our heart, as he did Hezekiah?
Was the Lord testing Peter when He asked him three times "Do you love Me"     (John   21.15-17)? Was Peter tested when the Lord urged him come and walk on "on the water" and he faltered on cried out "Lord save me" (Matt 13.28-31) Peters faith was being tested! "O you of little faith, why… Continue reading →
Knowing that you were not redeemed with perishable things like silver or gold from your futile way of life inherited from your forefathers, but with precious blood, as of a lamb unblemished and spotless, the blood of Christ.  1 Peter 1:18-19
While gold is the highest prize and greatest honor that the games can offer, it is not the most valuable currency in the universe.  It has been a pleasure to see many Olympic athletes openly express their faith in Christ in Rio.  These dear brothers and sisters in Christ understand the temporal (temporary) value of Gold in contrast to the eternal (forever) value of the precious blood of Christ.
KNOWING  THAT GOLD HAS NO ETERNAL VALUE – Peter is writing to believers to challenge them to live a life that reflects the holiness of God.  It is knowing that… Continue reading →
We recorded most of the sessions for Training Camp and over half of the sessions for Youth Camp.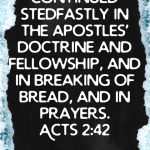 And they continued stedfastly in the apostles' doctrine and fellowship, and in breaking of bread, and in prayers. Acts 2:42
The ministry to "shut-ins" has changed through the years. I remember as a youth delivering cassette tapes to the homes of folks too sick to attend meetings of the local church. That short visit and perhaps a phone call was as much fellowship as these dear saints would get in a week.
Cassette Tapes became CDs. CDs became MP3s. MP3s have become live streaming. While many fellowships simply stream, which is like having a private TV channel, some use interactive streaming with tools like ZOOM (R} [http://zoom.us].
We have been separated by distance and quarantine and medically necessary isolation for half of 2020. My wife and I have visited fellowships around the country, and even the world. My wife loves to attend a Women's Bible… Continue reading →
Contact
Send meeting links to webadmin@webchapel.org