Visitors
Online Now: 1
Today: 93
This Week: 616
Since 2012: 108168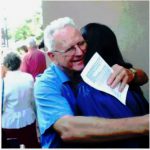 The entire video is 38 minutes long. It includes several minutes before and after the ceremony. The Bible reading begins at 12min 55sec and the ceremony ends at 31minutes. The remaining seven minutes includes the lowering of the casket. Most devices will allow you to use the slider to skip ahead.
Memorial Speaker's Notes
We are gathered here to grieve the loss and to remember, honor, and celebrate the life of Joseph Ray Farmer, whom most knew as simply Joe.
Joe was born March 25, 1942 to William Farmer in Anderson SC.
With the loss of his birth mother at only one week of age, Joe was raised by his father's second wife Edith, the only Mom he ever knew. He loved Edith and honored her with a memorable Mother's Day sermon about Mothers of adopted children. Joe loved and honored both parents, attending to… Continue reading →