Visitors
Online Now: 3
Today: 93
This Week: 616
Since 2012: 108168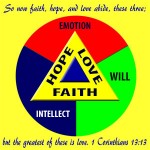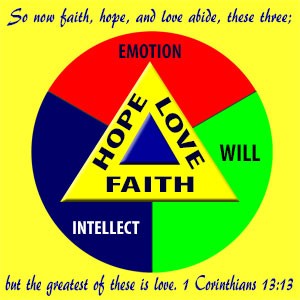 So now faith, hope, and love abide, these three; but the greatest of these is love.
I Corinthians 13:13 (CEV)
This diagram and the lesson which follows show how faith, hope, and love relate to the mind (intellect), will, and emotion of man – which in turn corresponds with the soul.
And the very God of peace sanctify you wholly; and I pray God your whole spirit and soul and body be preserved blameless unto the coming of our Lord Jesus Christ.    1 Thessalonians 5:23
When we read that God created man in His own image (Genesis 1:27) it does not refer to merely a physical representation, but the character and attributes of God. As God Himself is the Father, the Son, and the Holy Spirit, so man is also a tri-part being: body, soul, and spirit. Even as God is more… Continue reading →
VOWS, OATHS, AND PROMISES
If a man vow a vow unto the LORD, or swear an oath to bind his soul with a bond; he shall not break his word, he shall do according to all that proceedeth out of his mouth.


Numbers 30:2

(KJV)
This is an outline and link to the audio file from a message preached at North 56th Street Gospel Chapel (Tampa, Florida) on 1-4-2015
http://mrsteve.me/2015Vows [28 minute mp3 / 5MB]
Introduction:  The Law concerning vows.
A. Biblical
 Numbers 30:1-2
Deuteronomy 23:21-23
Matthew 5:33-37
B. Rabbinical Law (extra-Biblical)
 Three Times
Vows (things/others)
Oaths (personal)
I. Examples of Vows
A. Wedding
 Intent (I will), Vow (I do), Ring (I wed)
 B. Peter's oath.
Found in all four gospels
Matthew 26:34
Mark 14:30
John 13:38
Luke 22:34 (see 31-34, 54-62)
II. Foolish Vows
A. … Continue reading →
How blessed is the man who does not walk in the counsel of the wicked, Nor stand in the path of sinners, Nor sit in the seat of scoffers! But his delight is in the law of the LORD, And in His law he meditates day and night. Psalm 1:1-2
For as long as there have been roads and paths there have been markers along the way. This ancient practice of marking a journey has become a metaphor used to indicate expected events on a given path in any number of disciplines. Ms. Kitty and I became grandparents this year – twice. There are probably more developmental milestones in the first year of life than in the next ten years combined. Who knew that blowing bubbles was a developmental milestone? It has been an exciting year for our family and for many of our friends… Continue reading →