Visitors
Online Now: 1
Today: 106
This Week: 712
Since 2012: 140521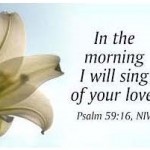 GUEST BLOG FROM CARL
Proverbs 3:5 5 Trust in the LORD with all your heart, And lean not on your own understanding;
Proverbs 14:12 12 There is a way that seems right to a man, But its end is the way of death.
We can place our trust in many difference places. But many times our trust in someone or something does not pan out. Some have trusted us in some area and have been disappointed when we fail to fulfill that trust. There is One we can totally trust in, and that is our Savior the Lord Jesus. Trust and hope go hand in hand. We trust in the eternal hope we have in Him. We trust that God is faithful to His word and He will not abandon us! In the faitfulness of God lies our trust.
Trust in our own… Continue reading →
GUEST CONTENT: stonestruestory@gmail.com Carla Estell
Our family celebrates Saint Nick's Day each year with filled stockings. It is usually the official start of the Christmas Season in our home. Carla Estell has written an Ebook (PDF) about Santa Claus and the true meaning of Christmas. If you print it double-sided it makes a book, or you can print it single sided and cut the pages in half to form a little book. Hey, it's free! Share it and be sure to include Carla's contact information.
You can also check out their family website: http://stonestruestory.org/
Here is the link to the storybook (2MB) http://mrsteve.me/1CZdFgG
One of the websites that I manage is devoted to providing resources for children's ministry (GospelTalks.com).  Eikon Bible Art is a source of printable and projectable Bible story pictures.  For Christmas they have a free Christmas book (pdf).  I got mine so I thought I would pass this along to others.  The free link is good for a week, but the books are quite affordable anyway.  https://www.eikonbibleart.com/index.php?main_page=page&id=19
Contact
Send meeting links to webadmin@webchapel.org