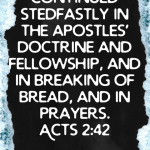 And they continued stedfastly in the apostles' doctrine and fellowship, and in breaking of bread, and in prayers. Acts 2:42
The ministry to "shut-ins" has changed through the years. I remember as a youth delivering cassette tapes to the homes of folks too sick to attend meetings of the local church. That short visit and perhaps a phone call was as much fellowship as these dear saints would get in a week.
Cassette Tapes became CDs. CDs became MP3s. MP3s have become live streaming. While many fellowships simply stream, which is like having a private TV channel, some use interactive streaming with tools like ZOOM (R} [http://zoom.us].
We have been separated by distance and quarantine and medically necessary isolation for half of 2020. My wife and I have visited fellowships around the country, and even the world. My wife loves to attend a Women's Bible… Continue reading →