How blessed is the man who does not walk in the counsel of the wicked, Nor stand in the path of sinners, Nor sit in the seat of scoffers! But his delight is in the law of the LORD, And in His law he meditates day and night. Psalm 1:1-2
For as long as there have been roads and paths there have been markers along the way. This ancient practice of marking a journey has become a metaphor used to indicate expected events on a given path in any number of disciplines. Ms. Kitty and I became grandparents this year – twice. There are probably more developmental milestones in the first year of life than in the next ten years combined. Who knew that blowing bubbles was a developmental milestone? It has been an exciting year for our family and for many of our friends… Continue reading →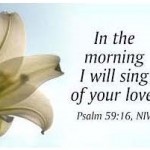 GUEST BLOG FROM CARL
Proverbs 3:5 5 Trust in the LORD with all your heart, And lean not on your own understanding;
Proverbs 14:12 12 There is a way that seems right to a man, But its end is the way of death.
We can place our trust in many difference places. But many times our trust in someone or something does not pan out. Some have trusted us in some area and have been disappointed when we fail to fulfill that trust. There is One we can totally trust in, and that is our Savior the Lord Jesus. Trust and hope go hand in hand. We trust in the eternal hope we have in Him. We trust that God is faithful to His word and He will not abandon us! In the faitfulness of God lies our trust.
Trust in our own… Continue reading →
GUEST CONTENT: stonestruestory@gmail.com Carla Estell
Our family celebrates Saint Nick's Day each year with filled stockings. It is usually the official start of the Christmas Season in our home. Carla Estell has written an Ebook (PDF) about Santa Claus and the true meaning of Christmas. If you print it double-sided it makes a book, or you can print it single sided and cut the pages in half to form a little book. Hey, it's free! Share it and be sure to include Carla's contact information.
You can also check out their family website: http://stonestruestory.org/
Here is the link to the storybook (2MB) http://mrsteve.me/1CZdFgG
One of the websites that I manage is devoted to providing resources for children's ministry (GospelTalks.com).  Eikon Bible Art is a source of printable and projectable Bible story pictures.  For Christmas they have a free Christmas book (pdf).  I got mine so I thought I would pass this along to others.  The free link is good for a week, but the books are quite affordable anyway.  http://www.eikonbibleart.com/index.php?main_page=page&id=19
2 Chronicles 32:31 "… God withdrew from him (Hezekiah), in order to test him that He might know all that was in his heart."
Will the Lord withdraw from us as a believer in Christ? The Lord told us "I will never leave you or forsake you" (Heb 13.5). As Christians, we have the indwelling Spirit so He is always with us. However, does the Lord test us, to know what is in our heart, as he did Hezekiah?
Was the Lord testing Peter when He asked him three times "Do you love Me"     (John   21.15-17)? Was Peter tested when the Lord urged him come and walk on "on the water" and he faltered on cried out "Lord save me" (Matt 13.28-31) Peters faith was being tested! "O you of little faith, why… Continue reading →
Follow Me: The Man Who Missed The Boat
 But Jesus said unto him, Follow me; and let the dead bury their dead.  And when he was entered into a ship, his disciples followed him.  Matthew 8:22-23
Matthew paints the scene: Disciples of Jesus approach him as he is about to enter a boat.  Jesus gives an invitation to follow Him.  They turn back toward home and miss one of the greatest displays of His power – the calming of the sea.  The disciples in the boat respond with "What manner of man is this, that even the winds and the sea obey him!" (8:27)
The first psalm in the order of our Bibles is actually found in Exodus 15.  Israel sings of the deliverance by the Lord and in verse 10 "Thou didst blow with… Continue reading →
And God shall wipe away all tears from their eyes; and there shall be no more death, neither sorrow, nor crying, neither shall there be any more pain: for the former things are passed away.  – Revelation 21:4 (KJV)
Today many friends and healthcare co-workers joined to say goodbye to a friend and to provide love and support to the family and to each other.  It was a day of sadness for us.  The encouragement by Paul in 1 Thessalonians 4:13 is that as believers we grieve when a loved one dies, but not as those that have no hope.  This friend had the testimony of several witnesses that her faith was securely planted in the promise of eternal life through the work of Jesus Christ.  This "Celebration of a life" had moments of laughter, but the sadness still lingers… Continue reading →
Eve: The Mother of All Living
Gen 3:20 Now the man called his wife's name Eve, because she was the mother of all the living.  (This is where the woman is first named Eve and the first use of "mother").  God had made for man a helper to serve alongside of man.  The phrase "help meet" (KJV) implies companionship, equality, and perhaps a reference to strength, as one translates this "strong helper".
I will make him a help meet for him; עזר כנגדו  ezer kenegdo, a help, a counterpart of himself, one formed from him, and a perfect resemblance of his person. If the word be rendered scrupulously literally, it signifies one like, or as himself, standing opposite to or before him. And this implies that the woman was to be a perfect resemblance of the man, possessing neither inferiority nor… Continue reading →
Also I heard the voice of the Lord, saying, …..  "Isaiah 6:8
As our nation awakened to the National Day of Prayer I opened my Bible (actually my tablet app) and read this prayer of Isaiah.  The passage begins with "I saw  the Lord."  We often focus on this chapter as the vision of Isaiah.  However, since my heart was focused on prayer I found a little "treasure hidden in the field" as the old brothers would say.
We often pray privately just like we pray publicly.  It is how we are taught. By our example we teach this to our children.  We talk to the Lord. We give him a list of things to act upon. Then with the invocation of Jesus Name we conclude our prayer time with "amen" (let it be so).  Imagine if… Continue reading →
And be not drunk with wine, wherein is excess; but be filled with the Spirit;
– Ephesians 5:18
Most folks think that they have control of themselves and their circumstances.  I am reminded of a scene from the movie The Devil Wears Prada.  Miranda, a powerful fashion editor, is explaining to her second assistant Andrea that the sweater she "chose" was actually chosen for her by professionals in rooms like the one that she found herself in at that moment.  I apologize if you missed the analogy, but the point is that world (in the Biblical sense) tells folks what to think, what to wear, and how to feel.
Paul begins his admonition to be filled with the Spirit with the extreme contrast of being controlled by alcohol which is (results in) "excess"(KJV).  The Old English term excess confuses… Continue reading →